When New Year's resolutions aren't for you
Written by Mercedes Miller
New year's resolutions, especially at the beginning of a new decade, can seem daunting and we can feel pressured to make big changes in 2020.
Sometimes this pressure motivates us to make healthy growth in our lives, but other times these unrealistic resolutions can leave us feeling unsuccessful and at a loss.
If New Year's resolutions aren't for you, here are some other options to reminisce about the past year and set goals for the next:
Create a list of things you we're grateful for this year/decade.
Regardless of if you choose to make a new years resolution or not, take some time to recognize the progress you've made, ways you've grown, and acknowledge some of the things that you're grateful for. Beginning with a mindset of gratitude can make future goals seem more achievable.
Create a list of things to look forward to.
Rather than feeling the pressure from big goals, keep a more positive mindset by listing some things that you're looking forward to in the new year. Whether this is plans with loved ones, or looking forward to personal growth, this list can instill some excitement and positivity into your 2020.
Develop a mantra.
Mantras aren't only for meditation - they can be used in everyday life by journalling them, saying them to ourselves when we wake up or go to bed, or posting them on a sticky note on our mirror! Choosing a simple mantra for the year such as "where I am right now is exactly where need to be" or "I keep my head up and my heart open" can leave you feeling grounded and hopeful.
Start a 365-day project.
This project could be anything from taking a picture every day to writing down something you're grateful for each day and keeping them in a jar to open at the end of next year. This can create routine and gratitude in our lives.
Highlight the things you do well, rather than focusing on what you want to change.
Of course change and growth can be positive things, but we can find ourselves feeling stuck if we continue to move forward without acknowledging how far we've come. There are many things that you do well, so try and show yourself some love and recognize that!
If resolutions and big goals work for you, that's awesome! If you choose to do this, remember to set goals that are SMART: specific, measurable, attainable, relevant and timely.
Either way, take some time to figure out what this new year means to you: a refreshing beginning to set some new achievable goals, simply another day to keep on keeping on, or somewhere in between. Two things are for sure - you have things to be proud of for this past year, and you have steady growth to look forward to in 2020!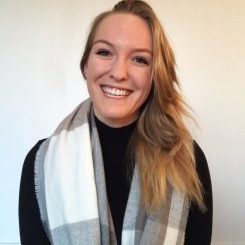 Mercedes Miller is a Masters' student in Counselling Psychology at Adler University and is completing her Social Justice Practicum with Avalon Recovery Society for the 2019/2020 academic year.
Mercedes has a Bachelor of Arts in Psychology and volunteered at ANOVA, a shelter for women experiencing domestic violence in her hometown of London, Ontario. She says her experiences have led her to be very passionate about feminism and supporting all women.