Self-care during social distancing
Written by Mercedes Miller
In times like these, life can be filled with a lot of uncertainty, anxiety and panic. Our normal lives are uprooted, and we are asked to refrain from social gathering, something that is natural to our human nature. Stress and anxiety have direct impacts on the immune system, so it is more important than ever to practice self-care.
There can be some pressure to get a lot done during this time, whether that be working remotely from home or taking up a new project. I'd like to take this moment to remind you that this time doesn't have to be spent working hard and grinding; you are allowed to rest, you are allowed to breathe, you are allowed to relax and you are allowed to recharge.
Here are some ways that you're able to practice self-care during times of social distancing:
Make time for staying connected. Being physically far apart doesn't have to mean socially cutting ties. Making time for staying connected with those who you love via phone calls, Facetime or Skype is essential. Remember that we are all in this together, and we are trying to be more community-minded than ever.
Create boundaries for the information you're receiving. Receiving non-stop news all day can be exhausting. Notice how you're feeling when you're reading the news and notice when it is time for a break. Try to separate what is in your control and what is not, and then focus on what is.
Listen to uplifting music or meditations. Many different platforms, such as Headspace, have released free meditations specific for anxious and uncertain times like this. Uplifting playlists have also been released on different platforms such as Spotify and Apple Music. Music has the power to change our mood - so take advantage of these creative resources. If you are someone who prefers more movement, many yogis are going virtual to lead classes online - from uplifting sequences to grounding ones.
Explore what you can create with yourself. This can be a time to try out your creativity, try something new, and see what you're able to create. Whether it's painting, drawing, or picking up your old instrument, we can use this free time to express ourselves through creative means and release creative parts of our brains that we've maybe set aside.
Make your home a sanctuary. During social isolation, our home is where we'll be spending the majority of our time, so it's important that we feel warm, comfortable and safe in our space. Try moving some furniture around, cleaning a little bit, and really making your home feel like a sanctuary.
Find small moments of joy. Things can get overwhelming, so finding gratitude for the small things in life is important. Try expressing gratitude and taking a moment to recognize the small joy of moments such as lighting a candle, feeling the sunshine or taking a bath.
I hope these tips help you in your self-care journey during this time of social distancing. Take care of yourself, take care of others, and take a moment to breathe. I'll end this post with a beautiful poem from Kitty O'Meara that shed some light on this time for me:
"And the people stayed home. And read books, and listened, and rested, and exercised, and made art, and played games, and learned new ways of being, and were still.

And listened more deeply. Some meditated, some prayed, some danced. Some met their shadows.

And the people began to think differently. And the people healed.

And, in the absence of people living in ignorant, dangerous, mindless and heartless ways, the earth began to heal.

And when the danger passed, and the people joined together again, they grieved their losses, and made new choices, and dreamed new images, and created new ways to live and heal the earth fully, as they had been healed."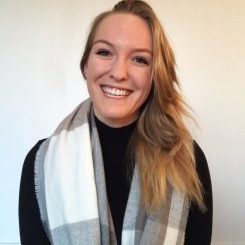 Mercedes Miller is a Masters' student in Counselling Psychology at Adler University and recently completed her Social Justice Practicum with Avalon Recovery Society for the 2019/2020 academic year.
Mercedes has a Bachelor of Arts in Psychology and volunteered at ANOVA, a shelter for women experiencing domestic violence in her hometown of London, Ontario. She says her experiences have led her to be very passionate about feminism and supporting all women.