Note to Self Workshop: Social self-care
Written by Mercedes Miller
We understand by now the importance of relationships in our lives: we're social beings by nature, and remaining disconnected from everyone is virtually impossible.
Managing these relationships in our lives so that they're healthy and thriving is the hard part, and this is where social self-care comes in.
Social self-care is defined as activities that nurture and deepen the relationships we have in our lives – even the relationship we have with ourselves! What does this look like, how do we practice it in our everyday lives?
One way to practice social self-care is to set boundaries. Boundaries are more than just a fancy self-care word; setting boundaries is a skill that we have to learn, practice and grow. Setting boundaries means setting healthy limits on the relationships in your life and having an idea of how you'll respond if someone passes those limits.Here are some tips for setting healthy boundaries in your life:
Take some time to decide what you want the boundary to look like.

Use some quiet time to yourself to see how you're feeling and decide what you need your limits to be.
Practice what you want to say.


Even a quick google search can give you some good phrases if you're feeling stuck. Running what you want to say past some loved ones can be helpful practice.
Know that you're not responsible for their reaction.


You're only responsible for setting your boundaries and doing what makes you feel best. Respect the other person's response and remember that you are only responsible for your own boundaries.
Have a support system in place.


Having people on your side who support you can really help you throughout this process. Finding support from women who are setting boundaries of their own can be empowering.
Social self-care and setting boundaries can be difficult - but remember that you are worth it, you have a right to protect your time and energy and sometimes saying no to others means saying yes to yourself.
This practice might look different as we practice physical distancing, so be sure to check out some of the other blog posts on Avalon's website (here and here) to get some inspiration for self-care and connection during these unprecedented times.
The third Note to Self self-care workshop at Avalon will focus on social self-care. It will explore how to practice social self-care while practicing physical distancing, what boundaries mean to you and tangible ways that we can set these boundaries in our lives.
If you're interested in learning more about this while building connections with women in the Avalon community, free tickets for the online workshop are available here.
Please note that we have moved this workshop online (via Zoom) in light of the recommendations to physically distance ourselves. Once you register for the workshop on Eventbrite, you will receive the Zoom link to participate in the workshop. We hope to see you there!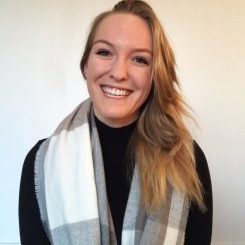 Mercedes Miller is a Masters' student in Counselling Psychology at Adler University and recently completed her Social Justice Practicum with Avalon Recovery Society for the 2019/2020 academic year.
Mercedes has a Bachelor of Arts in Psychology and volunteered at ANOVA, a shelter for women experiencing domestic violence in her hometown of London, Ontario. She says her experiences have led her to be very passionate about feminism and supporting all women.