Sobering up from your smartphone
Written by Mercedes Miller
I sit down at my laptop to start writing a blog post for Avalon. I pick an interesting topic, find some good articles to get inspiration from and open a blank document - and then I see my phone screen light up out of the corner of my eye. I automatically pick it up, check the notification and all of a sudden, it's been 5 minutes and I'm on a stranger's Instagram page.
When I notice that I've been distracted, I turn back to writing the blog post and all I can do is laugh. Of course, the topic I had chosen was taking a social media cleanse, and sobering up from your smartphone.
Our smartphones can be blessings in many ways: easily giving us directions when we need them, acting as an alarm clock, and keeping us in touch with those we love. But when we take a step back and look at the other impacts that our smartphones are having on our lives, the results might not be so positive. Always being connected with others can put us in a place where we are constantly comparing our internet lives to those of others, and our internet lives can become easily confused with our real lives.
Social media in particular creates an environment where comparison is normalized, and this constant comparison can become a habit. This comparison can leave us feeling inferior, small and unworthy. Our constant connection to our smartphones and social media can distort our self-image by making us think that our lives should be as perfect as the social media pages of those who we follow. This internet portrayal of others is not always accurate; many people will post the highs of their lives on their pages, but hide the lows, which gives the illusion that their lives are close to perfect.
Luckily, these feelings of comparison and inferiority can be lessened by taking a break from our phones or social media. Stepping away from our smartphones can help us be more present and creative, live in the moment instead of sharing it on your feed and be more productive. Distractions are then kept to a minimum, and we can find ourselves having better conversations (because we're more present with friends and family) and feeling less hostile towards people because we're not always comparing ourselves to them. This step back can also help our emotions come up easier and then we are able to deal with them.
Here are some ideas of different smartphone/social media detoxes that you can take, all at different intensities and levels. You are able to take these for a week, a month or longer! Check in with how you feel about the reduced use at the end of every day, or the end of every week.
Silencing all of your social media notifications and only using your phone for contact (texting/calling) with loved ones and work

Deleting all social media apps

Setting timers on different apps that you know you spend a lot of time on, or that leave you feeling negatively (iPhones have a function to set certain time limits on different apps!)

Outlining some boundaries for yourself for your smartphone (e.g., only using your phone from 9AM - 5PM)

Stop all use of your phone except for calling
After noticing my hypocritical move of writing this blog post while being on my smartphone, I moved my phone to another room to finish up this post. It felt great to even have that small break from social media and my phone screen, so if you're up for the challenge of sobering up from your smartphone, know that I'll be joining you in this challenge and we're in this together. Let's go engage in life, be more present and live life more fully!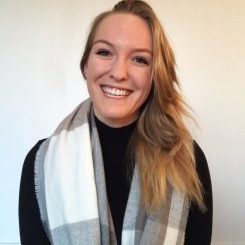 Mercedes Miller is a Masters' student in Counselling Psychology at Adler University and recently completed her Social Justice Practicum with Avalon Recovery Society for the 2019/2020 academic year.
Mercedes has a Bachelor of Arts in Psychology and volunteered at ANOVA, a shelter for women experiencing domestic violence in her hometown of London, Ontario. She says her experiences have led her to be very passionate about feminism and supporting all women.