Social media influencers have a lot of authority in today's world, and today we want to celebrate our sober influencers. These inspiring women have come together to create real and refreshing content to end the stigma behind addiction.
The sober community has grown immensely over the recent years, and we want to cheer on the amazing women who have committed their lives to support other women seeking recovery. These local trailblazers have come out to speak their truth and build a safe and supportive space both offline and online.
Let's give a big shout out to some of our sober B.C. ladies!
Jessica Jeboult of A Sober Girls Guide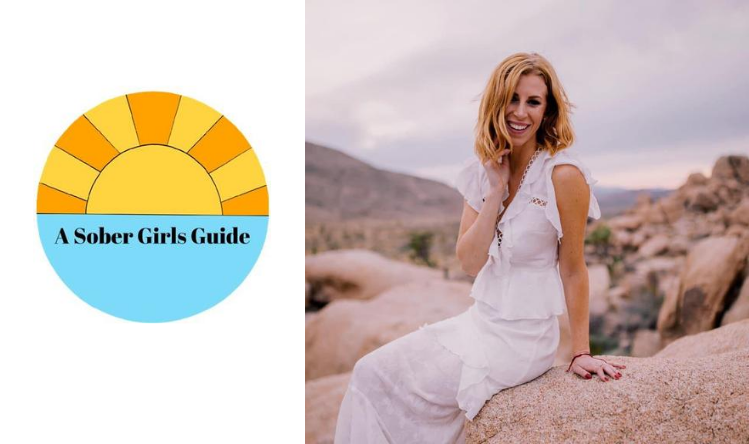 Vancouver and Los Angeles-based Jessica Jeboult is the founder of A Sober Girls Guide, a blog, podcast, and recovery community designed to empower women in sobriety. Jessica is a writer, a blogger, a motivational speaker, and a coach. Jessica was a former DJ in Los Angeles where she had a glamorous party lifestyle day in and day out. As time went on, she got caught up in a vicious and unfulfilling party girl lifestyle fueled by depression, anxiety, and guilt. It wasn't until she changed her mindset and truly evaluated her relationship with alcohol and drugs that she was able to get her the sobriety she needed to prioritize the things that mattered to her.
Jessica wrote the book Save Your Own Damn Life, an unconventional self-help book designed to "light a fire under your ass" and motivate you to take control of your life. She hosts free Happier Hour zoom calls every Thursday, offers private and group coaching, and has designed downloadable programs and workbooks to keep you motivated and accountable in your recovery.
A Sober Girls Guide is a refreshingly honest, modern and outright funny resource for women to get real support in their recovery.
Elaine Alec and Calling My Spirit Back
Elaine Alec is an Indigenous writer, spiritual teacher, and motivational speaker. She is the author of the recently released book Calling My Spirit Back, which discusses tangible steps on how to cultivate safe spaces for diversity and inclusion.
Elaine is from the Syilx (Okanagan) Nation and Secwepemc (Shuswap) Nation and is a member of the Penticton Indian Band in the Interior of British Columbia. She has been a political advisor, Chief of Staff for the British Columbia Assembly of First Nations, Community Planner for her own First Nation, a public servant with the Province of British Columbia, and an employee with the Community Initiatives Unit for Indigenous Services Canada in the B.C. Region.
Elaine has spent over 20 years in over 100 communities across Canada to promote healing and wellness. She is a partner of  Indigenous-owned and operated planning company Alderhill Planning Inc., along with Chief Chris Derickson and Jessie Hemphill who are all leading experts in Indigenous community planning.
Frances Stone of Mother's Recovery Tribe
Frances Stone is a Certified Addictions Counsellor and President of Mother's Recovery Tribe, a non-profit society dedicated to creating a supportive community for mothers in recovery from addiction.
Frances has overcome mental illness, addiction, poverty and abuse in her life. As a former single mother of three children who has struggled with mental health and addiction, Frances knows the value of community, connection and support in combating the isolation and stigma of mental illness and substance abuse. Today, she is seven years sober and strives to use her personal and professional experience in the mental health and addiction field to support mothers seeking long-term recovery. She is currently working on her second memoir REBORN: My Story of Recovery, due out next year.
Mother's Recovery Tribe is a grassroots community of over 1,000 mothers in recovery with a mission to engage, educate and empower mothers in recovery from the effects of drug and alcohol misuse by increasing access to the community, education and resources that decrease intergenerational trauma, develop recovery capital and support the maintenance of long-term recovery.
Dawn Nickel and Taryn Strong of SHE RECOVERS
SHE RECOVERS Foundation is a non-profit community that connects, empowers, and supports women in recovery. SHE RECOVERS was founded by Dawn Nickel and her daughter Taryn Strong in Victoria, B.C., and has grown into a global movement consisting of over 325,000 women in or seeking recovery from substance use disorders, behavioral health issues, and/or life challenges.
SHE RECOVERS hosts twice-daily Zoom Gatherings, has online programs, coaching, recovery-based yoga, dance classes and a podcast. They also host incredible retreats and events designed to unite and empower women. While not a 12-step program, SHE-RECOVERS supports and includes women in all pathways of recovery.
Dawn Nickel, PhD
Dawn Nickel, PhD, is the founder of SHE RECOVERS and a professionally trained recovery coach. Her recovery journey began in 1987 after years of struggling with substance abuse since the age of 15. Dawn completed a Bachelor's degree in Women's Studies in 1990 and went on to get a Master's in Women's History and a PhD in the History of Health Care. While facing recovery from workaholism, Dawn decided to start a blog and Facebook group in 2011 to share her journey in recovery, which has later become the biggest online community supporting women in recovery. SHE RECOVERS was born from Dawn's need for space where women could connect and get the tools and support to recover without stigma.
Taryn Strong
Taryn Strong is a trauma-informed yoga instructor, recovery coach, aromatherapist and co-founder of SHE RECOVERS. Taryn identifies as being in recovery from trauma, a substance use disorder and self-injurious behavior. Her love for yogic philosophies inspired her to create a unique 'yoga for recovery' retreat program, which combines spirituality, yoga, and meditation with recovery principles. She has led over 40 'yoga for recovery' retreats since 2012, is the host of the SHE RECOVERS Podcast, and most recently created and taught the inaugural trauma-informed SHE RECOVERS Yoga Teacher Training Program.
Read more about the story of SHE RECOVERS
Nina and Roxy of Off the Sauce Pod
Nina and Roxy's friendship blossomed at the local pub. 17 years later, the former waitresses talk authentically about their journey with sobriety on their podcast "Off the Sauce."
They joined forces in May 2020 to create a non-judgmental space on social media of like-minded sober and sober-curious folk. On their podcast, the ladies discuss many sober related topics such as dating, triggers, and stigma in an off-the-cuff sort of way.
Nina is married to her high school sweetheart and lives in Maple Ridge, B.C. with their three sons, one of whom has special needs. She loves being a stay-at-home mom and wife while working part-time. She recently switched careers to become a voice talent actress.
Roxy is a single mother to her two children and 'furbaby' Bernie. She is a Vancouver Island-based photographer working out of Sooke, B.C. who primarily captures families and boudoir.
Roxy will be celebrating her sober birthday of four years on September 30. Nina recently jumped from sober curious to sober. Their unique journeys into sobriety and different personalities are what makes this duo interesting. They have one major thing in common: a love of humour and fun, which is certainly infused into their podcast. If you haven't yet, go check them out!
Brooke Robichaud and Suzanne Logan of Seek Purpose
Seek Purpose is an organization started by two moms, Brooke Robichaud and Suzanne Logan, who were looking for a purpose in their recovery journey. Seek Purpose is a sober podcast and community dedicated to bringing a voice to recovery online and through social media to show those who are struggling that there is hope and they have a purpose.
Suzanne, co-founder and host of the podcast, is 28 years sober. She is a grandmother of one and a mother of three. Her daughter has special needs and is very involved in the special needs community. She is also a foster parent, home share provider and an amazing businesswoman.
Brooke is the other co-founder and host of the Seek Purpose podcast. She is also a board member of the Mother's Recovery Tribe. She just celebrated four years of sobriety and two years of marriage. She had three children and started on this business journey with a brand-new baby and horrible postpartum depression and anxiety. She is insanely creative and passionate about helping people face their fears and build confidence in themselves.
Karen Pontious is a professional communicator working on her dream to be a freelance writer and editor. She is currently completing a summer placement with Avalon Recovery Society.
Her passion is intercultural relations and communication. She writes about relationships, immigration stories, gender norms, and mental health.